EXHIBITIONS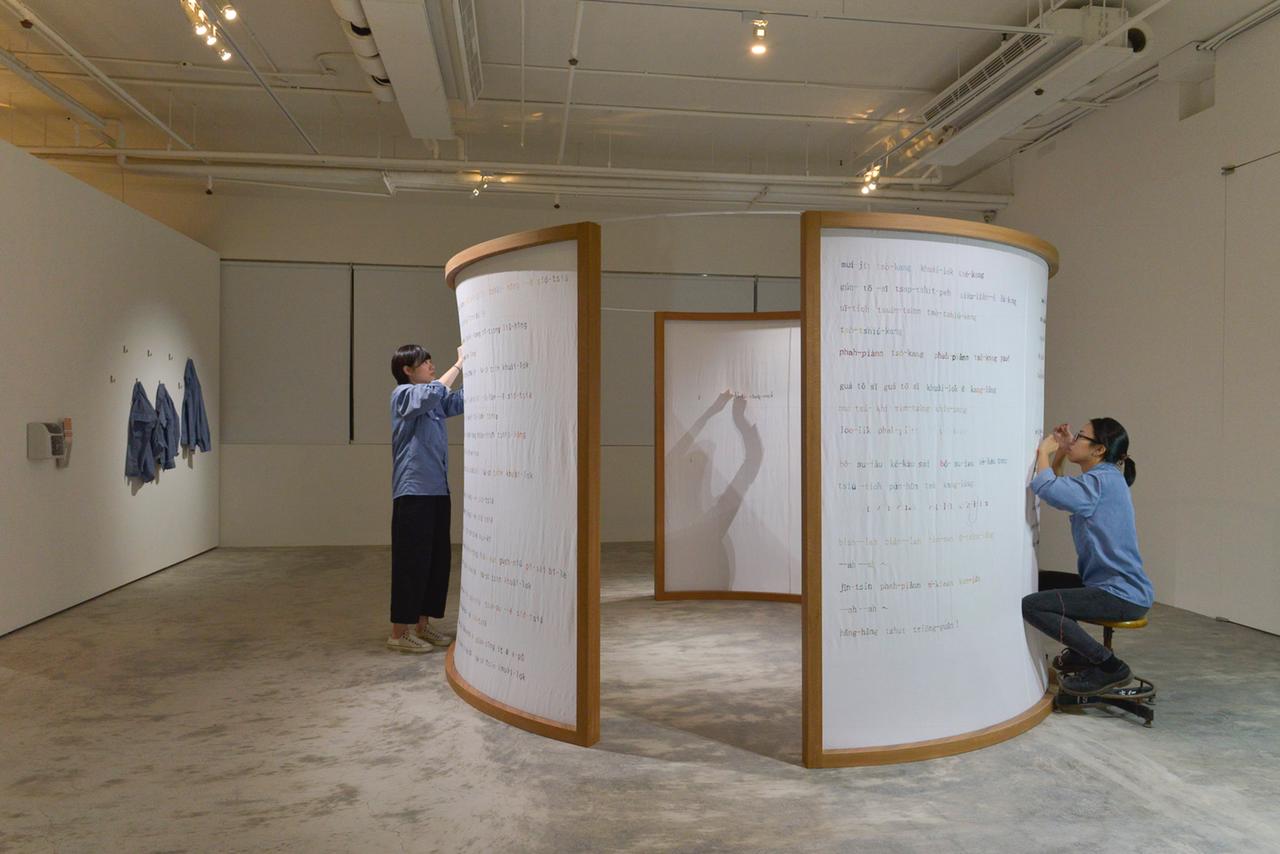 PASS EXHIBITION
Hieroglyphic Memory: Surveying Bangka Through Narrative Trace
謎樣的記憶 : 從敘事軌跡探視艋舺

EVENT DATE: NOV 22, 2016 - DEC 30 , 2016
EVENT VENUE : BENGKA PARK, SUGAR FACTORIES IN A CENTURY, MOGA CLOTHING BUSINESE CIRCLE, KXINFU MARKET

EXHIBITION DATE: DEC 22, 2016 - DEC 30 , 2016
EXHIBITION OPENING: DEC 23, 2016, AT 2PM
EXHIBITION VENUE : BOPILIAO HISTORICAL BLOCK
OPEN HOUR: TUE – SUN 9AM-6PM (Close on MON)
NO.101, GUANGZHOU ST., WANHUA DIST., TAIPEI, TAIWAN


The starting point of the research project is to encourage artists to look for questions of Bangka in Wanhua regarding issues such as surveying local history and the evolution of society and the environment. 

Bangka is the oldest district of Taipei, so history is the primary concern. Bangka is built on the banks of the Tamsui River and is home to a diverse range of activities: there is textile trading and garment manufacturing, as well as a night market with offerings from ancient traditions, both Chinese and from the island itself. 

With this project, each artist proposed his/her own though to define quality and the way he/she would like to present it. Each artist's work materialized in different media is engaged in critical historiographies of colonialism, contemporary capitalism, and related social imaginaries.
這項研究計劃的出發點是促使藝術家探尋觀於萬華艋岬的問題,涉及像是探究地方歷史以及社會與環境的演變等議題。
艋岬是台北最古老的街區,因此歷史成為本計劃最主要的關切。艋岬建於淡水河岸,在此進行著各式各樣的活動:布料買賣和製衣,還有一座夜市,其中販賣屬於中國以及台灣這座島嶼本身的古老傳統的祭祀用品。
每位藝術家透過這項計劃提出這個區域的某種尚未明確界定的特性,以及想予以呈現的方式。以各異的媒材製作的各個藝術家作品處理關鍵性的歷史書寫,它們關乎殖民、當代資本主義以及相關的社會想像。

Artist: bösediva (Robin Detje & Elisa Duca) (DE), Chihiro Minato 港千尋 (JP), Duncan Mountford (ENG), Fabien Lerat (FR), Joongho Yum廉中浩 (KR), HOU I-Ting 侯怡亭(TW), TING Chaong-Wen 丁昶文(TW), Ting Ting CHENG 鄭亭亭(TW), LIN Cheng Wei 林正偉(TW), CHENG Jen-Pei程仁珮 (TW).
EVENTS AND PERFORMANCES
19.12.2016
Bangka House
Fabien Lerat
Performance in the Bopiliao Historic Block, public spaces of the city
13:00 – 18:00
Bopiliao Historic Block
23.12.2016 – 25.12.2016
PROCESSING / BANGKA
bösediva (Robin Detje & Elisa Duca)
Performative event
15:00 – 18:00
Bopiliao Historic Block, Exhibition space NO. 19
23.12.2016 & 29.12 – 30.12.2016
All the Ladies
Hou I-Ting
Performative event
13:00 – 17:00
Bopiliao Historic Block, Main Hall
23.12.2016
City of Culture
Lecture series by Lin Chi-Ming (Professor and Head of the Department of Arts and Design, Taipei National University of Education) and Chihiro Minato (Artistic Director, Aichi Triennial, Japan)
Hosted by Chun-Chi Wang (Curator)
16:00 – 17:00
Bopiliao Historic Block, Main Hall
24.12.2016
Introduction to Northern Taiwanese Plains Aborigines' History and Their Culture at the Present
Lecture series by Lin Sheng-Yi (Director of Ketagalan Culture and History Studio) and Ting Ting Cheng (Artist)
Hosted by Wang Chun-Chi (Curator)
14:00 – 15:00
Bopiliao Historic Block, Main Hall
25.12.2016
From Images of the Body to the Body of Labor
Lecture series by Lulu Shur - tzy Hou (NUK Department of Creative Design and Architecture) and Hou I-Ting (Artist)
Host by Wang Chun-Chi (Curator)
14:00 – 15:00
Bopiliao Historic Block Main Hall
29.12.2016
Relational Sites: Art & the City
Lecture series by Shen Bo-Cheng (Assistant Professor of Department of Communications Design, Shih Chien University)
and Chaong-Wen Ting (Artist)
Host by Wang Chun-Chi (Curator)
16:00 – 17:00
Bopiliao Historic Block Main Hall
30.12.2016
Mob City
Lecture series by Min-Jay Kang (Associate Professor of NTU Graduate Institute of Building & Planning) and Manray Hsu (Critic and Senior Curator)
Host by Wang Chun-Chi (Curator)
16:00 – 17:00
Bopiliao Historic Block Main Hall
.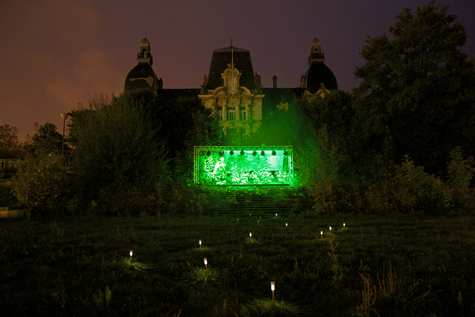 FUTURE EXHIBITION
The social significance of a city extends from its center to its edge. Fluctuations along this border result in spatial transfigurations, both surreal and metaphysical, that expose distinctive perspectives on our culture, inviting us to experiment with the relationship between space and sound. Light Interdiction thus emerges as a new form of synesthesia, time and perception forming a new shell, a node embedded in the urban framework that supports cultural exchange. Utilising light as a structural base, artists Tom Mùller, Fabien Lerat , Duncan Mountford, WANG Fujui(王福瑞), TAO Ya-Lun(陶亞倫) NI Hao
(倪灝) and Ting Chang(郭奕臣) investigate potential exploitations of our perceptual experience through interventions in architectural space.

光之禁區
置身在後工業的科技城市中,我們週遭充斥著光,它們或是來自交通號誌、閃耀的霓虹招牌,或者發散自機件和通訊設備的無盡螢幕,這些設備雖然產生光,卻同時將我們的精神能量往內吸進一個無盡但隱藏的、由零與一構成的矩陣中。
光處處可見。它是如此無所不在,以至於我們幾乎難以辨識自然的光源,因為在我們眼中,它們再也不是自然的。一個適切的例子是1994年於洛杉磯的一場地震,它癱瘓了當地的一個電力網,都市居民打911通報有「一片龐大的銀雲」盤旋在上空──那就是銀河。
資本主義製造的慾望機器已經佔取了宇宙的光,這個機器現在以低廉的方式交易主體性,而我們可以透過一整套各式各樣的消費購物而獲得這些主體性。以廉價而庸俗的方式誘發人們進行金錢交易──這業已取代了宇宙其深邃的神秘論。
光、真理之光、某種光…等等──它們並非中性的。在好萊塢,光用於營造某種連續感和一批有階級之分、被控制的個人。從光在無法預期的不安定世界向我們呈現的秩序感而言,它營造幻覺;它是一層薄薄的塑型表層,保護我們不落入虛空。在繪畫中,光被用於透視圖法,它固定觀者的視線,此外,光也用於創造個體的心靈,後者乃作為吾人看世界時所透過的透鏡。


然而,光是所有的物質之中可塑性最強的,而我們在面對都會的過高生產力時,雖然僅作為單向的接收者,但在面對光及其疆域化效應之際,我們不必保持被動。吾人可以透過塑造出這些個別的主體性,將光用於調整和建構社會及社會角色,而也可以用它來泯除感官、模糊界線,並將我們帶入狂喜。光含有某種加強力,足以把我們帶進各種異樣的狀態。
光向來經常象徵某種完美的生命層次、形而上空間裡的某種理想形式──人們並試圖要求握有這一切。但還存在其他的概念,將光視為暴力的、過甚的和狂喜的,像是喬治•巴塔耶(Georges Bataille)的書寫中提出的,特別是他的超現實著作╱警語系列──《太陽肛門》(Solar Anus),他在其中將太陽描繪成一個肛門之眼、守著通往黑暗的入口的括約肌。此處提出的光雖然充滿創生力,但如果我們嘗試直接正視它,它卻會使我們盲目。這樣的一種光將透過極為親密的擁抱,帶領我們進入漆黑。巴塔耶寫道,這是一種創造盈餘的能量之源。
巴塔耶在《太陽肛門》中寫道:「植物一貫地朝向太陽;另一方面,人類儘管相對於其他動物,而像樹一般都是陽具狀的,卻必然將視線避開。人類的眼睛既無法忍受看太陽、性交、屍體,也無法忍受黑暗,只是在面對這些情況時各有不同的反應。」
巴塔耶顯然欣然接受其毀滅的概念,他這樣的人或許很可能輕易將我們帶往並帶入其黑洞太陽的虛空中,但藝術家的角色可以說是串起一個聯結並為這瘋狂的素材引領一條路徑、穿入真實表相的薄薄外殼,就像岩漿奮力穿過岩石、闢開路徑。
於是,光無所不在,不論它的作用是發揮實用功能,或是激發令人神魂顛倒的狂喜。在吾人的現實中,產生並濫用光的設備的快速推進已經蔚為趨勢;我們的時間表已經從地球的節奏中解放出來。但正是在這樣的環境裡,藝術家族以作為行使者,重新聯結、運作和想像某個光之景象的促發者,將這個物質和他們的內在視野相融合。「光之禁區」展覽提出:藝術家正作為這種特有性質的促發者。
LIGHT INTERDICTION
In the post-industrial techno city we are surrounded by light, whether emanating from traffic lights, flashing neon signs or the infinite screens of gadgets and communications devises which generate light but suck inwards our psychic energies into an infinite but concealed matrix of ones and zeros.
Light is everywhere. It is so omnipresent that we can scarcely register natural sources of light, as they are no longer natural to us. A case in point: in 1994, when an earthquake knocked out a power grid in Los Angeles, city residents called 911 to report "a giant silvery cloud" hovering overhead – ie. The Milky Way.
The light of the cosmos has been usurped by the manufactured desire machinery of capitalism, which trades, these days, in subjectivities which can be obtained via a set of distinct consumer purchases. The heavy mysticism of the cosmos is replaced by a cheap and tawdry enticement into economic exchange.
Light, the light, a light, etc. are not neutral. In Hollywood light is used to produce a sense of continuity and a hierarchical set of contained individuals. It is illusionistic in the sense of order it presents to us in an unpredictable and unstable world; a thin plastic coating protecting us from the void. In painting light was used in the service of perspective, fixing the viewer's lines of sight, also in the production of the individual psyche as the prism through which to view the world.
But light is the most malleable of materials and we needn't be passive in the face of it and its territorializing effects, merely one-way receptors in the face of urban hyper-productivity. While light can be used to regulate and structure society and social roles through the carving out of these discrete subjectivities, it can also be used to obliterate the senses, to blur boundaries and lead us into a trance. There is a power of intensity within light that can lead us to a myriad of altered states.
Light has often come to symbolise a perfect plane of being, an idealized form in a metaphysical space to which we attempt to lay claim. But there are other conceptions of light as violent, excessive and ecstatic, such as the writing of Georges Bataille and, in particular, his surrealistic essay / set of aphorisms "Solar Anus", in which he presents the sun as an anal eye , a sphinchter guarding the entry to darkness. Here we have a light which is all generating but blinds us if we try and confront it directly. It is a light that will lead us into total blackness through too intimate an embrace. It is a sources of energy, Bataille said, that creates a surplus.
Bataille wrote in "Solar Anus": "Vegetation is uniformly directed towards the sun; human beings, on the other hand, even though phalloid like trees, in opposition to other animals, necessarily avert their eyes. Human eyes tolerate neither sun, coitus, cadavers, nor obscurity, but with different reactions."
While Bataille – someone avowedly comfortable with the concept of his annihilation – would perhaps easily lead us to and into the void of his black hole sun, the artists role, it could be argued, is to strike up a connection and navigate a path for this frenzied matter into the the thin crust of surface reality, as magma forces its way through rock.
And so light is everywhere, whether in its role of implementing utiliarian function or inciting ecstatic revelries. Our reality is characterised by the rapid propulsion of devices which generate and exploit light; our schedules have liberated from the earth's rhythms. But it is this context that an artist can be an agent, an instigator who rewires, reworks and re-imagines a landscape of light, fusing this material with their inner-visions. "Light Interdiction" proposes the artist as an instigator of this very nature.