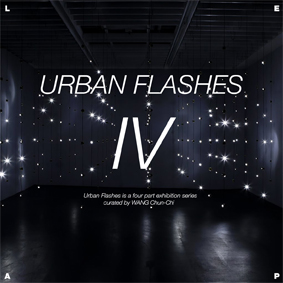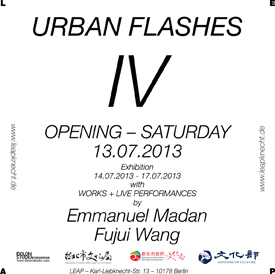 URBAN FLASHES IV

with works and opening performance by Emmanuel Madan and Fujui Wang
Opening:Saturday 13.07.2013, 20.00
Exhibition: 14.07.2013 – 17.07.2013
Opening Hours: Sunday to Wednesday 12.00 – 18.00,
Free Entry (donations welcome) Facebook Event


The social significance of a city extends from its center to its edge. Fluctuations along this border result in spatial transfigurations, both surreal and metaphysical, that expose distinctive perspectives on our culture, inviting us to experiment with the relationship between space and sound. Urban Flashes thus emerges as a new form of synesthesia, time and perception forming a new shell, a node embedded in the urban framework that supports cultural exchange. Utilising light as a structural base, artists Emmanuel Madan and Fujui Wang investigate potential exploitations of our perceptual experience through interventions in architectural space.

Harnessing electromagnetic energy, Emmanuel Madan's "Lueurs" contains a single electrical light source of constantly varying intensity. As for any electrical device, the cable delivering the electricity to the lamp generates a field of electromagnetic energy all around it. As the amount of electricity is being modulated, it follows that the electromagnetic field is also constantly changing. The space also contains a very simple audio circuit designed to be receptive to the ambient electromagnetic energy in the room, very much like a primitive radio receiver. The sound produced by this circuit is amplified over loudspeakers situated in the space. As the light brightens or dims, the electromagnetic field changes, and we hear corresponding shifts in the sound. The presence of people within the room serves to heighten the receptiveness of the sound system to the light source. The installation employs only conductive materials, cables and metal to increase its inductive properties. In this way, the bodies of the people in the space become akin to radio antennas, the components of the work permiting a perceptive and contemplative experience that is simple yet profound. It is not intended to be a mere physical demonstration of the scientific properties of electromagnetism, rather it invites a reflection on the idea that our actions are never without consequence. We exist not just as observers but as active participants in complex and constantly evolving fields of energy. Our every gesture, our very presence, necessarily affect and are affected by these fields.

In contrast, ''Quiet Noise'' by Fujui Wang exists in a liminal state, allowing a metaphysical exploration of the sporadic connections between urban sounds and the space. These electromagnetic soundscapes recorded by Fujui Wang are revealed through contact between a specified instrument and electrified aluminum frames suspended from the ceiling. Wang's second work, ''Sound Dots'' deconstructs viewers relationship to shadow and space through use of light points and rhythmic dissonances, aleatoric stimuli that confuse the senses into a unified state of perception.

Emmanuel Madan is a composer and sound artist. He studied electroacoustic composition under the direction of Francis Dhomont at Université de Montréal. His artistic practice centres around the reclamation and subversion or transformation of found sonic environments and artifacts. In 1998, he co founded the artistic collaboration [The User] with architect Thomas McIntosh. [The User]'s projects to date include the Symphony for dot matrix printers, Silophone and Coincidence Engines. Between 1992 and 1996, Madan worked as a community radio broadcaster in Canada. More recently, he has renewed his engagement with the medium of radio through works such as Freedom Highway, which documents and remixes American religious and right-wing political broadcasts (2002-2004), A Series Of Broadcasts Addressing the Limitlessness of Time (2006-2007), the experimental multi-channel transmission work The Joy Channel (co-created with Anna Friz, 2007-2008) and the curatorial project Simulcast (2009-2010) which invited sound and transmission artists to create a series of unchanging radio broadcasts. Madan is usually based in Montréal, and currently lives and works in Berlin where he is the Conseil des arts et des lettres du Québec's artist in residence as part of Künstlerhaus Bethanien's International Studio Programme.

Fujui Wang is a head of the Trans-Sonic Lab in center for art and technology of Taipei National University of the Arts, specializes in sound Art and Interactive Art. A pioneer of Sound Art in Taiwan, who established the first experimental sound zine/label NOISE/Taiwan in 1993. In 2000 Wang joined ETAT and initiated BIAS Sound Art Exhibition and Sound Art Prize in the Digital Art Awards Taipei. His activities contribute to enhancing Sound Art as a new genre in Taiwan's art scene. He has curated The Digital Art Festival Taipei and "TranSonic" sound art festival.

Urban Flashes IV is a four part exhibition series presented by IDOLONSTUDIO and LEAP and curated by WANG Chun-Chi.





「城市閃爍 Urban Flashes」系列展覽分別由四個系列以創意思想和新媒體藝術作品來呈現出當代城市。藝術家採用數位聲音、光(燈管)、投影、和其他方式, 以在具體的藝廊空間裡重現,藉由可觸、迷人和感覺來詮釋。這四組藝術家分別有「城市閃爍I:我會壞了-姚仲涵」、「城市閃爍II:Volusonogram -Tim Vents」、「城市閃爍III:城市微幅-一當代舞團、折射率-傑米.艾倫」以及「城市閃爍IV:靜噪&聲點-王福瑞、光-埃馬紐埃爾·馬丹」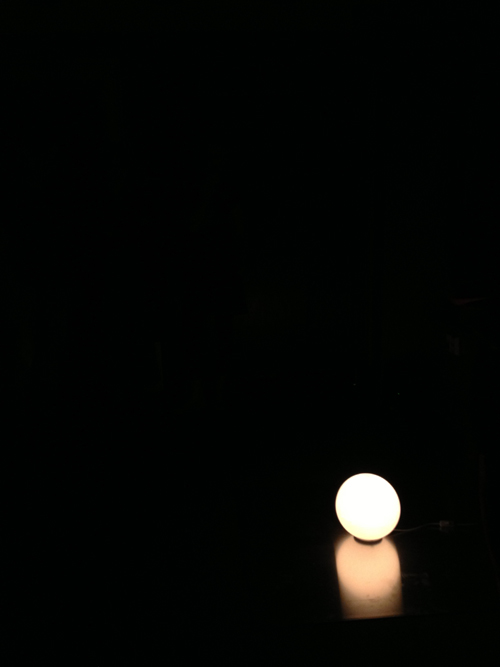 Luers by Emmanuel Madan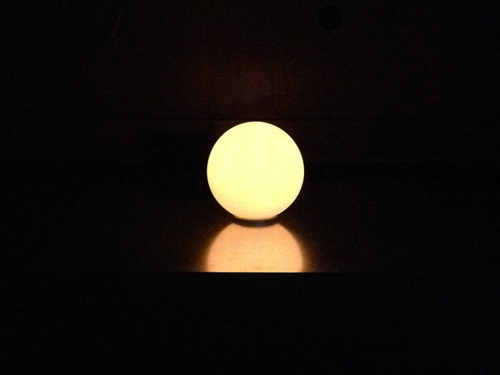 Luers by Emmanuel Madan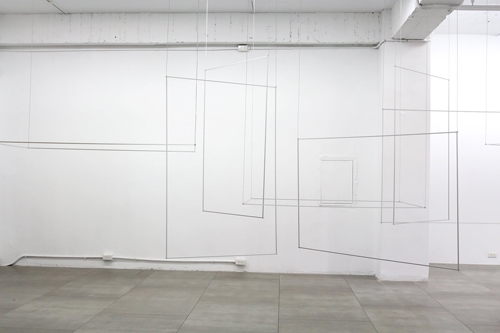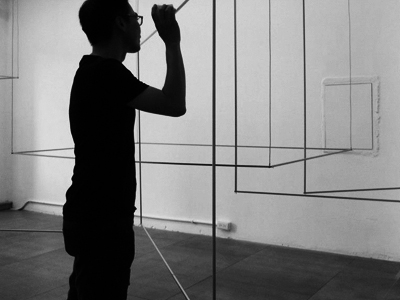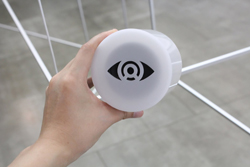 Quiet Noise by Fujui Wang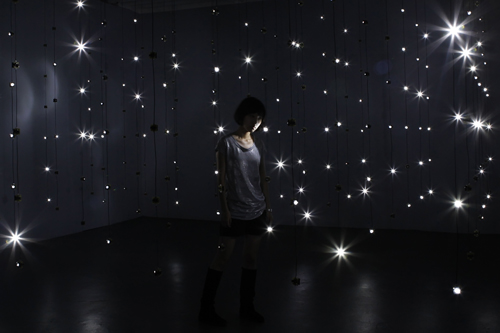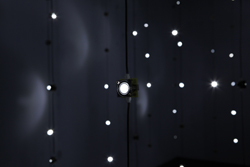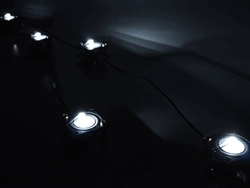 Sound Dots by Fujui Wang