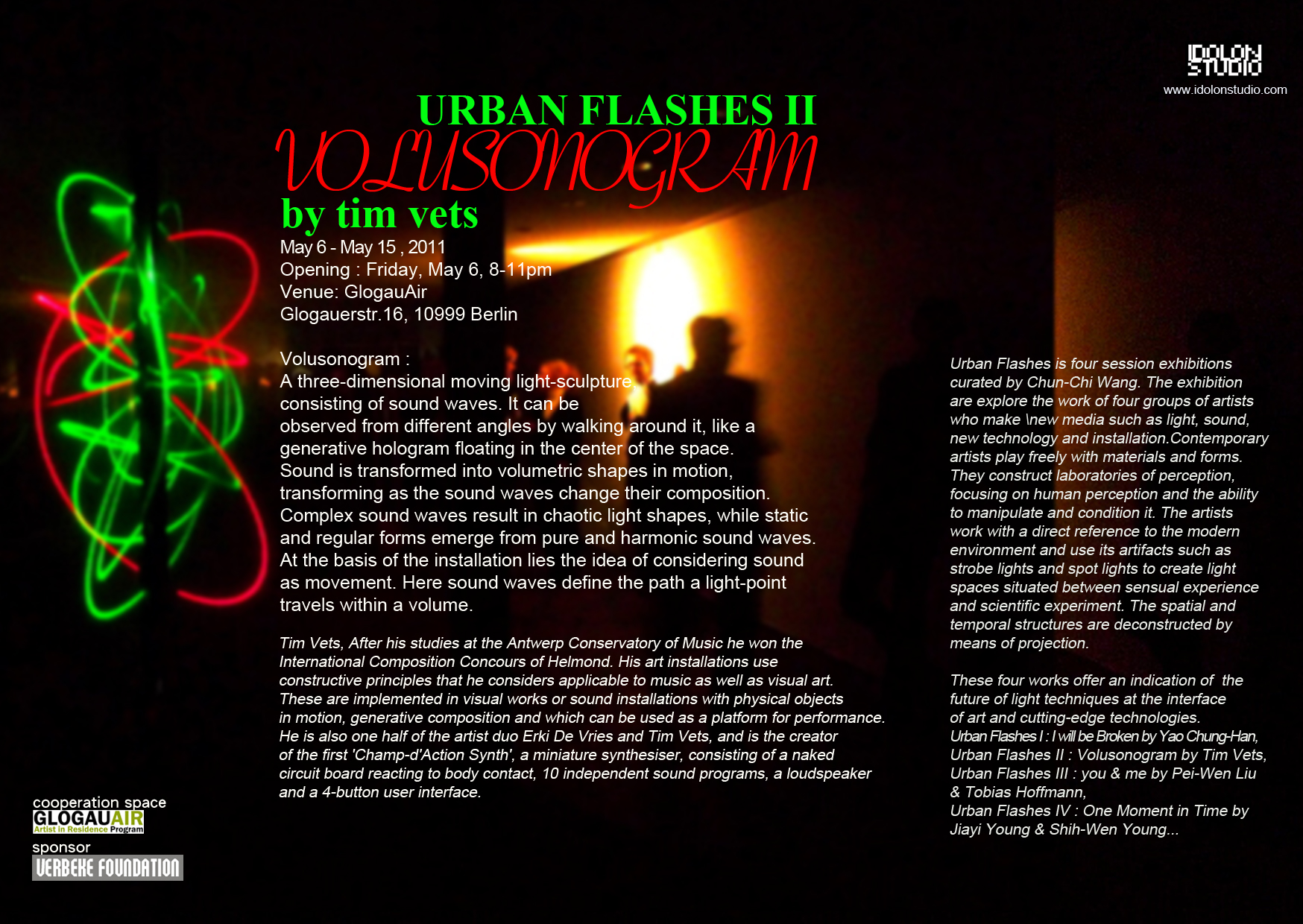 URBAN FLASHES II : VOLUSONOGRAM
MAY 6 – MAY 15, 2011
OPENING: FRIDAY, MAY 6, 7PM-12AM
CURATED BY CHUN-CHI WANG
Exhibition by
TIM VETS
WEEKENDSOUND#8 Performance by
Tim Vets(BE),LAIN(CH),GOHST(DK)

IDOLON STUDIO is pleased to present "Urban Flashes II : Volusonogram" by Tim Vets. The exhibition will open on May 6 and will be on view until May 15. The opening reception scheduled for Friday, May 6 and for Friday, May 13 will include a WEEKENDSOUND event of live concert by Lain(CH), Gohst(DK), Tim Vets(BE) beginning at 9.00 pm.
Urban Flashes is four session exhibitions curated by Chun-Chi Wang. The exhibition are explore the work of four groups of artists who make new media such as light, sound, new technology and installation. Contemporary artists play freely with materials and forms. They construct laboratories of perception, focusing on human perception and the ability to manipulate and condition it. The artists work with a direct reference to the modern environment and use its artifacts such as strobe lights and spot lights to create light spaces situated between sensual experience and scientific experiment. The spatial and temporal structures are deconstructed by means of projection.
These four works offer an indication of the future of light techniques at the interface of art and cutting-edge technologies: "I will be Broken" by Yao Chung-Han(TW), "Volusonogram"by Tim Vets(BE), "syzygy" by Pei-Wen Liu(TW) & Tobias Hoffmann(DE) and "One Moment in Time" by Jiayi Young(CN)& Shih-Wen Young(TW).
"URBAN FLASHES II : Volusonogram" 06.05.- 15.05.2011
A three-dimensional moving light-sculpture, consisting of sound waves. It can be observed from different angles by walking around it, like a generative hologram floating in the center of the space. Sound is transformed into volumetric shapes in motion, transforming as the sound waves change their composition. Complex sound waves result in chaotic light shapes, while static and regular forms emerge from pure and harmonic sound waves. At the basis of the installation lies the idea of considering sound as movement. Here sound waves define the path a light-point travels within a volume.
Tim Vets, After his studies at the Antwerp Conservatory of Music he won the International Composition Concours of Helmond. His art installations use constructive principles that he considers applicable to music as well as visual art. These are implemented in visual works or sound installations with physical objects in motion, generative composition and which can be used as a platform for performance. He is also one half of the artist duo Erki De Vries and Tim Vets, and is the creator of the first 'Champ-d'Action Synth', a miniature synthesiser, consisting of a naked circuit board reacting to body contact, 10 independent sound programs, a loudspeaker and a 4-button user interface.
SPONSOR :



COOPERATION SPACE:


"URBAN FLASHES III : syzygy"
[quoted from wikipedia] a syzygy is the alignment of three or more celestial bodies in the same gravitational system along a straight line. [/quoted]
syzygy a reduced meaning is "relationship", this word have been used in many fields from its origin, derived from astronomy. A Russian philosopher Vladimir Solovyov used it to describe pair of correlative things or its opposition in friendship-community. And it is also a word as Rhythms, which has no "a.e.i.o.u" but many "y".
The central character is a little ultrasonic robot named "cello." The physical distances between "cello" and the spectators are detected and used for remapping the sonic environment inside the robot's house. The circuit corresponds to the acoustic memory of four streamings and triggering speech extracted from mis-readings of the book, The Soundscape: Our Sonic Environment and the Tuning of the World, by R. Murray Schafer from 1997.
The idea based on "distance in between", and "distance between awareness & affectation", I try to represent those signifiers by changes of sonic environment, after this name "cello" was given, a humor touch added to the installation, I started to use cello as character in a tale, think of its reactive behaviors for sounding. However, to use the name of center character as the title of story/installation then I don't feel comfortable, because this main character's destiny has yet set or complete in this story, here spectators are allowed to brings various of open parameters. Syzygy - cello is an embodiment, as well as the spectator and sound medium.
The name "cello" - I guess when people hear this robot's name without seeing it would associate to the image of the musical instrument - cello. Other expectations towards this installation would drive to the acoustic quality of cello, which sense is what I would try to avoid. Cello is the name, syzygy is an act in sound.
Pei-Wen Liu has dabbled in a variety of digital domains, but has concentrated on sound art, acoustmatic, and streaming video art since 1999. Her work has been infuenced by neo-dada, freeform jazz as well as avant-garde electronic musicians and minimalist painters/composers. She has composed pieces for radio, animation, dance, theatre projects and installations. Pei was born in 29 of June, 1977, female sound artist, a Taiwanese passport holder while living in Basel and Gothenburg. As a sound artist, she received Honorary Mention in digital music, Prix Ars Electronic, Linz, Austria and fellowship in Akademie-Solitude] Stuttgart, Germany. Pei has been activly performing with acousmatic and soundscape in Europe and Taiwan, as well as co-organising DIY electronic art and digital environment workshop - playaround
Tobias Hoffmann Media Artist, a Neo-dadaist who likes to bridge object and code with Arduino.

"URBAN FLASHES IV : One Moment in Time"
Sound is a very special (perhaps unique) quality Earth possesses. If you could see sound and capture the image, what would it look like? We use the physics of sound propagation to calculate and visually map out sound using our unique and innovative real-time 3D sound visualization model. In each of the pieces in the series, what's presented here is a photographic documentation of a "slice" of sound at a particular moment in time at a particular location.
Human perception comes into play when we form our visual/audible reality. This factor is also taken into consideration in the visualization model to articulate the relativeness in perception. The One Moment in Time Series photo-documents a sound moment. Each image is accompanied with a time stamp, printed limited edition with archival quality ink and paper.
Jiayi Young&Shih-Wen Youn, Jiayi Young is a professor of Art New Media, her research and experiments encompass her knowledge in both the formal and conceptual aspect of art and physics merging the two at a level beyond the mere incorporation of scientific subject matters. Her work has been shown nationally and internationally in exhibitions such as the Kearney Street Workshop, San Francisco, CA; the 2008 Chinese Biennial, Beijing, China; Centre d'art Marnay-sur-seine, France; and Cyberfest 2009, the State Hermitage Museum, St. Petersburg, Russia.
Shih-Wen Young is a professor of physics and astronomy. Collaborating with Jiayi Young since 2002, he has constructed installations that require one-of-a-kind fabrication and engineering in software and hardware. The team has had a lot of experience in realizing large-scale installations involving interactive real-time videos and electronic devices.
"URBAN FLASHES I : I will be Broken" 28.01.- 06.02.2011
"Urban Flashes I : I will be Broken" is an official Partner event of DAS Weekend/ transmediale.11/ CTM.11.
Electronic devices, florescent light.
I will be gone out of order, but before that, my voice is beautiful.
With a 16.6/second switching frequency, I sing and with the same 16.6/second switching frequency, I break down.
After I am completely broken, I can be discarded.
(Text by Yao Chung-Han)
Fluorescent light has a limited life span. It wears out. Inside a pitch dark space, a string of sparks is continuously triggered by programmed electric currents. The concurrent, minute cracking sounds are amplified by a microphone placed at the upper part of the work. Perceptual contrasts fascinate the artist. In his words, "the visual part is so intense, while the sound is almost imperceptible and yet beautiful."
Being sensitive to the uncertainties of place, whenever he arrives in a new city, Yao Chung-han would open the hotel's windows, standing awhile to figure out what kind of place it is. A sudden spurt of sound can become enchanting to him, as if a scene unexpectedly unfolds outside of one's own apartment. Likewise, an instantaneous sound can appear purposelessly, and thus capture one in amazement.
"I Will be Broken" is such a scene occurring outside of one's window. Even though it is program-controlled, the approaching of different visitors, with different distances, at random affects the work. For the artist, the visitor is integral to the space of the work.(Text by WU Ting-hsien)
Yao Chung-Han Born in Taipei and a 2008 graduate of the School of Art and Technology, Taipei National University of the Art, Yao Chung-Han is an active member of the new generation of sound artists in Taiwan, which includes the group i/O Lab of which he is a core member. His works are mostly concerned with sound, while at the same time searching for the inherent connections between video, installation, space, and various media. Recent exhibitions include Non-Places: Architecture of Pheromonal Presence, SCU, Taipei (2010); Emergencies!014, NTT ICC, Tokyo (2010); Tokyo Story, Wonder Site, Tokyo (2010); SuperGeneration@Taiwan, Today Art Museum, Beijing (2010), and Shanghai Art Museum, Shanghai (2009).
SPONSOR:


Organized by Chun-chi, Wang