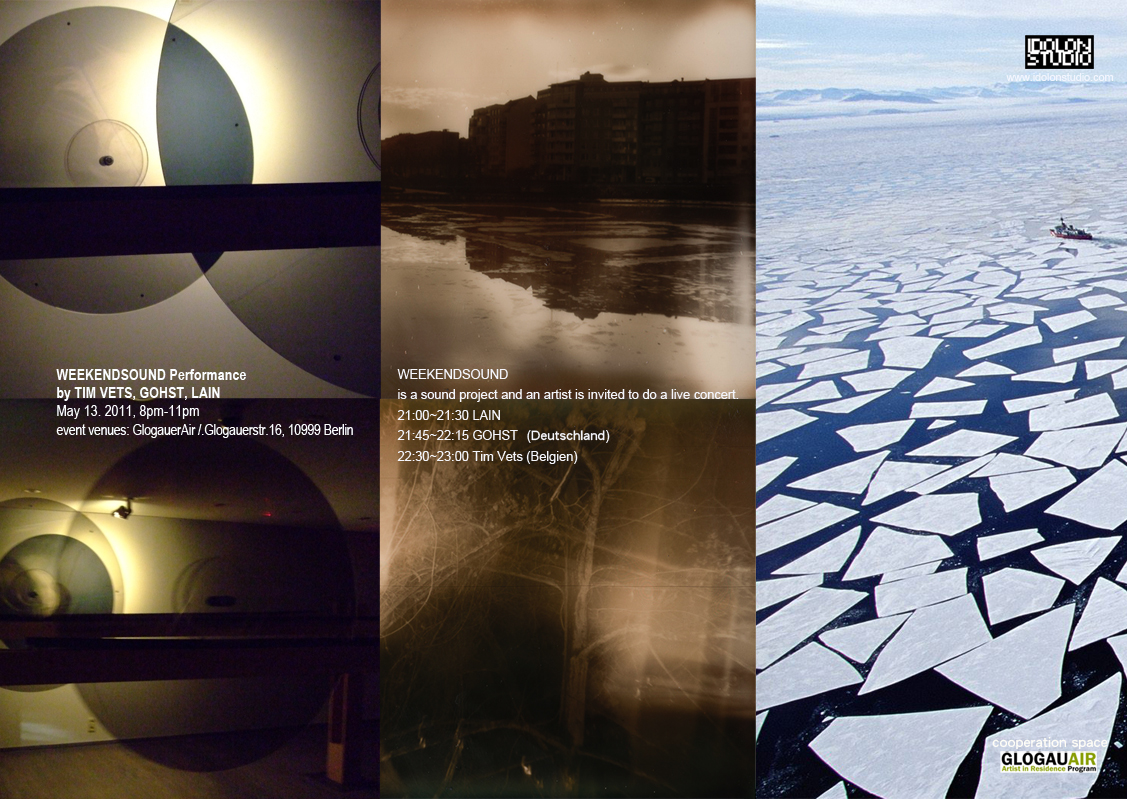 WEEKENDSOUND is a sound project and an artist is invited to do a live concert.
The session of WEEKENDSOUND on this evening IDOLON STUDIO is pleased to present Tim Vets(BE), GOHST(DK), LAIN(CH).

21:00~21:30 TIM VETS (BE). ..
21:45~22:15 LAIN(CH)..
22:30~23:00 GOHST (DK.) ..

TIM VETS, After his studies at the Antwerp Conservatory of Music he won the International Composition Concours of Helmond. His art installations use constructive principles that he considers applicable to music as well as visual art. These are implemented in visual works or sound installations with physical objects in motion, generative composition and which can be used as a platform for performance. He is also one half of the artist duo Erki De Vries and Tim Vets, and is the creator of the first 'Champ-d'Action Synth', a miniature synthesiser, consisting of a naked circuit board reacting to body contact, 10 independent sound programs, a loudspeaker and a 4-button user interface.
GOHST(Kasper Vang) is a sound artist and musician, working primarily with atmosphere and the sense of space, capturing and unfolding the hidden sounds of objects and rooms. He makes audio works and installations, as well as working in the scene of improvised music, and creating electronic music under the alias GOHST.

LAIN, Working primarily with a basis of field recording, he process them to create ghostly atmospheres to create an out of time sonic place, making a mind travel experience.
Organized by Chun-chi, Wang