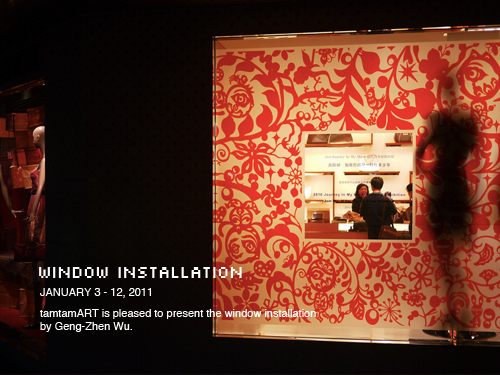 WINDOW INSTALLATION : an artist is invited to submit their works in tamtamART gallery window.
The session of WINDOW INSTALLATION present by Geng-Zhen Wu.

Geng-Zhen Wu who has a background in architecture is the winner of the Wanderer Project of Cloud Gate. He once traveled to China's northern Shaanxi province to learn paper cutting techniques. In order to challenge the limits of paper cutting, he took his passion for comics in his childhood and like the childhood memories of a secret agent, he used handmade paper cutting art to create naughty red people. He used them to cover an entire glass surface to create a shocking and moving image. His works are also shown with a scroll in the spatial arrangement, where countless little red people wave and blink at the audience, their expressions are funny and loveable, and have a playful and eccentric style.
Exhibition Organized by Chun-chi, Wang