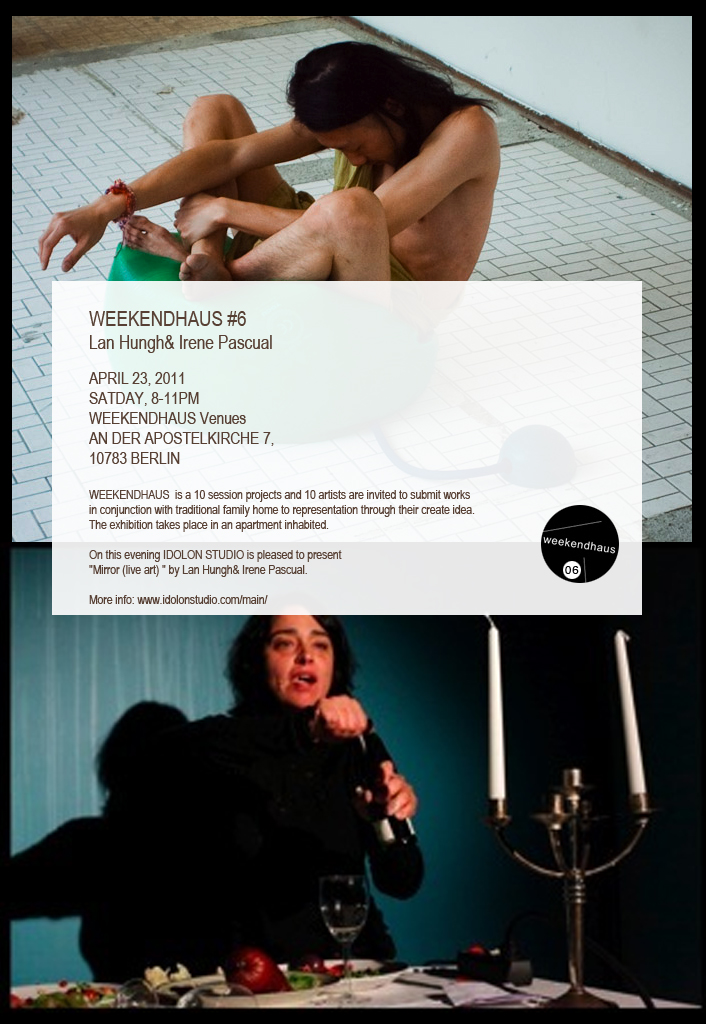 WEEKENDHAUS is a 10 session projects and 10 artists are invited to submit works in conjunction with traditional family home to representation through their create idea. The exhibition takes place in an apartment inhabited.

The session of WEEKENDHAUS present by "Mirror"(live art) by Lan Hungh & Irene Pascual.

Lan Hungh graduated from Taiwan University of Arts. His practice consists of performance, music, installations, videos, sculptures and curatings, explores the concept of the everyday and life's intimacies. With a mixture of culture his performance functions as a diary and incorporates music and movement of personal experience. His works have reached New York, London, Taiwan, Tokyo, Berlin, Nice, Cologne, Paris, Qadar, Martinique, Switzerland and Italy, important festivals such as Venice Biennale and New York Biennale Art.
Irene Pascual Molinas was born in Girona, Spain, in 1976. She graduated in Art History from the University of Girona, in Stage Design from the Institut del Teatre, Barcelona, and in Stage Design Studies at the Universitat der Kunste, Berlin. She also studied at the School of Fine Arts, Girona with Vicente Hudeo (drawing) and Montserrat Costa (painting). Irene's exhibitions, short movie projects and involvement with contemporary dance performances, have taken her all over the world. She is also a successful set designer, with many productions to her credit. Her recent shows have taken place in Berlin, Mexico, Luxembourg and Finland.
Organized by Chun-chi, Wang