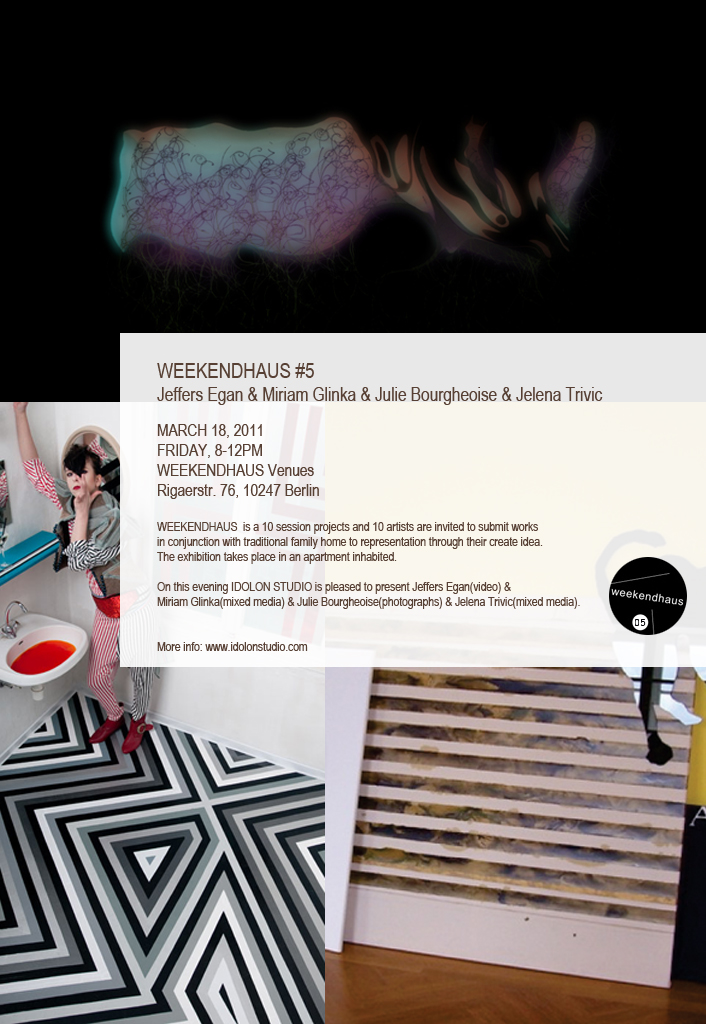 WEEKENDHAUS is a 10 session projects and 10 artists are invited to submit works in conjunction with traditional family home to representation through their create idea. The exhibition takes place in an apartment inhabited.

The session of WEEKENDHAUS present by Jeffers Egan(videos) & Miriam Glinka(mixed media) & Julie Bourgheoise(photographs) & Jelena Trivic(mixed media).

Jeffers Egan's work defines a new digital aesthetic for Video and Fine Art. Developed entirely with handcrafted, computer based algorithmic processes, Egan's abstract animations explore the concepts of digital as organism, and software as ecosystem. His motion paintings, Live AV performances, and videos have been showcased worldwide at festivals, galleries and museums including Transmediale, Netmage, Dissonanze, Plateaux, Cimatics, Interieur Biennale, Walker Art Museum, Guggenheim Bilbao, and the New York Video Festival. Egan's work has acheived international critical acclaim, nominated for media art awards at the D-Motion, Popkomm and Backup festivals, and hailed as "astounding"(Groove), "beautiful"(New York Times), "fascinating"(Musicwoche), "an extremely provocative multi-media performance with an absolutely unique aesthetic"(KEYS), "a mesmerizing and meditative experience(ArtWeek)" and "the most advanced trip imaginable in the current field of video art."(De:Bug)
Dandy box is the result of a collaboration between the very hidden Berlin artist Miriam Glinka and Tata Christiane(Julie Bourgheoise). Miriam Glinka was one of model idols of the brand for the collection of Les rois ambigüs. Of her attendance and in the contact of her work was born the desire to create costumes according to each of her collages which take of all the living space, to make a palace from nothing otherwise of self-adhesive papers, colors and structures, and of time, of her life, which is an imprint of a contemporary dandysm. This project take six month. I was working step by sted following her. The photography fixes this meeting of dandy box. We share an apartment in Berlin, with two cats.
Jelena Trivic 's work is concerned with the texture and surface of abstract composition, consistently prioritizing the materials used. Whilst manifestly abstract, Trivic describes her references as being"to cry in all colours, the books of Robert Walser, giraffes, Ibsen's Peer Gynt, the more beautiful sister, Ottfried Preussler's Krabat, Dandys, failure ... ". She takes these and activates seemingly arbitrary forms through the use of rudimentary geometric shapes and a set of varied elements; rich lacquer, raw canvas, layered household paint and in several works, the folded and layered canvas itself, creating multilayered abstractions, steeped within a language of a spare and abject formalism. Trivic (b.1980) is a graduate of both the Meisterschule Wolfgang Tillmans and the Stadelschule Frankfurt/Main. Recent exhibitions include Der Boxer, Frankfurter Literaturhaus,Frankfurt/Main 2008, Hit the Road Jack, Absolventenausstellung, StadelMuseum, Frankfurt/Main2007, Tension, Sex, Despair, Kunsthalle Exnergasse, Vienna 2007, and Kolnshow2, Galerie Fieback &Minninger with Fernando Sanchez Castillo, Koln 2007.(text by Museum52)
Organized by Chun-chi, Wang